In the previous post about LXP, we briefly introduced you to the definition and position of LXP. However, for a product that grows at twice the rate every year, you need to learn more.
Four phases of learning management platform
1980-2000
Enterprises purchase learning management systems to develop offline training courses and book classrooms in advance.
2001-2006
At the beginning of this century, online learning platforms emerged, and digital learning gradually became popular in the corporate world. Enterprises used online learning platforms to manage courseware and course libraries and conducted learning record management and approval.
2007-2014
A few years later, in addition to the reporting and delivery of training courses, these platforms have gradually evolved into talent development systems, making it easy for companies to track and evaluate training activities and learner progress throughout the enterprise, and focus on job functions and skills.
2014-Now
Nowadays, learning experience platforms are replaced by social media, videos, and mobile ends. More and more enterprises realized the importance of utilizing these platforms to integrate various information and knowledge together, in order to achieve diversified learning and social learning experience.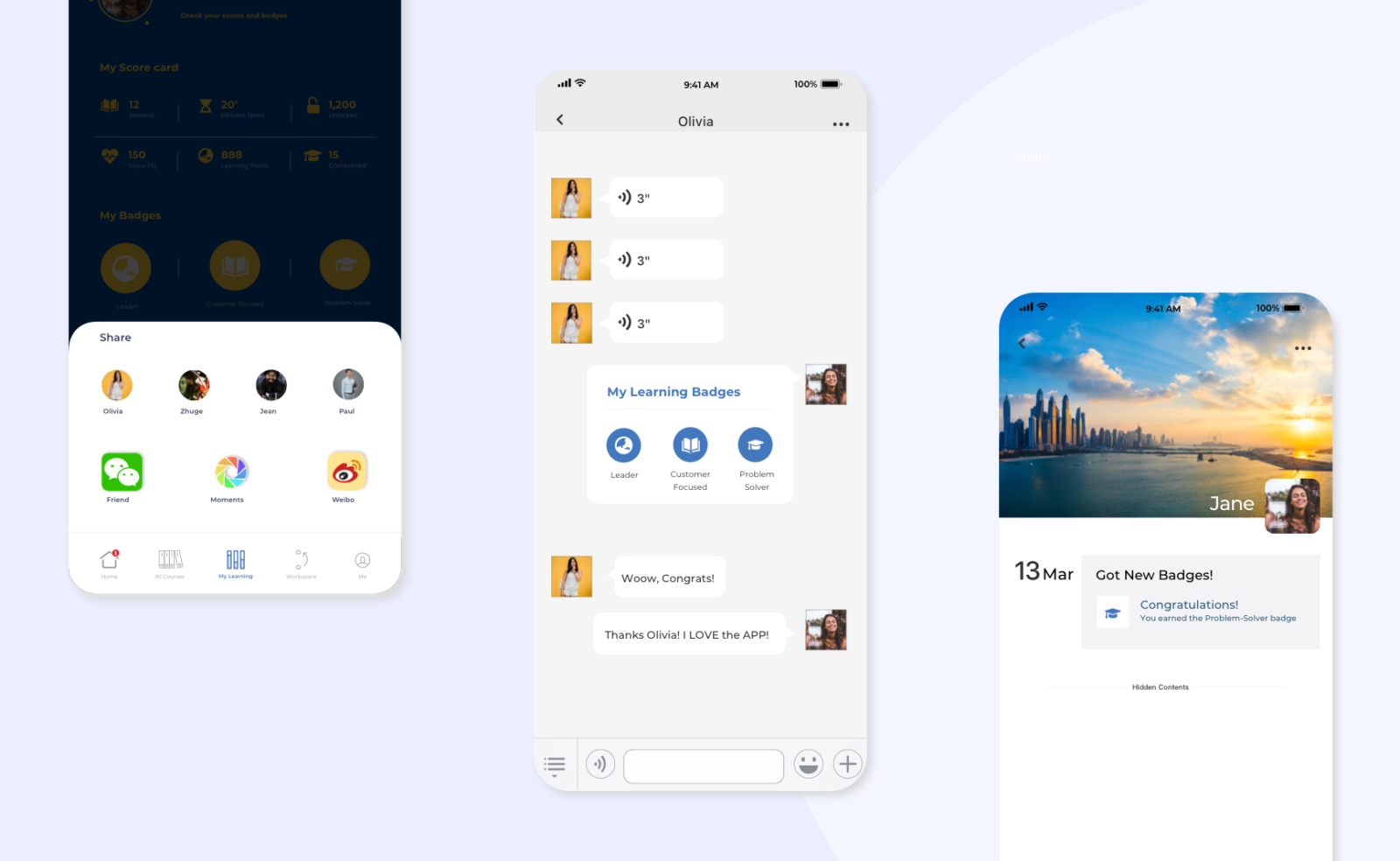 Three transformations from LMS to LXP
1. From corporate training to individual development
Enterprises that only use LMS usually have the management team to manage the learning platform with absolute control over the courses and training provided to employees. Most employees cannot directly choose their learning content and enhance their learning experience.
If LMS is defined as a top-to-bottom training plan, LXP allows employees to develop a learning map based on personal work needs and career development plans from the bottom up. It focuses on employee learning experience and employee self-learning, customize personalized learning paths.
2. From closed content production to open content integration
LMS is a closed system and does not support learning resources from external sources. Only administrators can add content and limit learning to the content in the enterprise learning system. For administrators, it is extremely time consuming to provide different learning options and increasing learning paths; for employees, closed content cannot meet everyone's learning needs in a timely manner.
On the contrary, LXP is an open system. Any URL can be added as a learning resource. The content channels are extremely rich: In addition to the internal content, it can also be purchased through external third-party content providers. It also supports user-generated content. Employees can freely upload content (including social group discussions, Q & A) and share recommendations. LXP helps every employee become a content contributor, making each user's choices diverse and wide.
3. From management-driven to self-driven
To use LMS, companies are strictly abided by the laws and regulations and requirements to monitor the information and progress of employee learning in the platform. It has limited scope. Most employees use LMS as part of mandatory daily tasks rather than as a way to learn new knowledge and skills. Even if the platform provides thousands of interesting courses, most employees will not actively learn about non-mandatory content.
Different from the management-driven mechanism, LXP takes the employees themselves as the design guide and purpose. Encourage employees to choose learning content and formulate learning paths based on personal self-improvement needs, work skills needs, and self-career path planning needs.
Just as Josh Bersin, founder, and CEO of Deloitte Bersin, called the learning experience platform (LXP) "The Netflix of Knowledge", the LXP platform also uses personalized engines and predictive analysis to capture employee learning interests and behavior. It generates accurate portraits of employees, fully understands the learning needs of employees, and accurately recommends content for employees based on AI and data prediction. Therefore, learning is gradually deepened and integrated into the work of employees.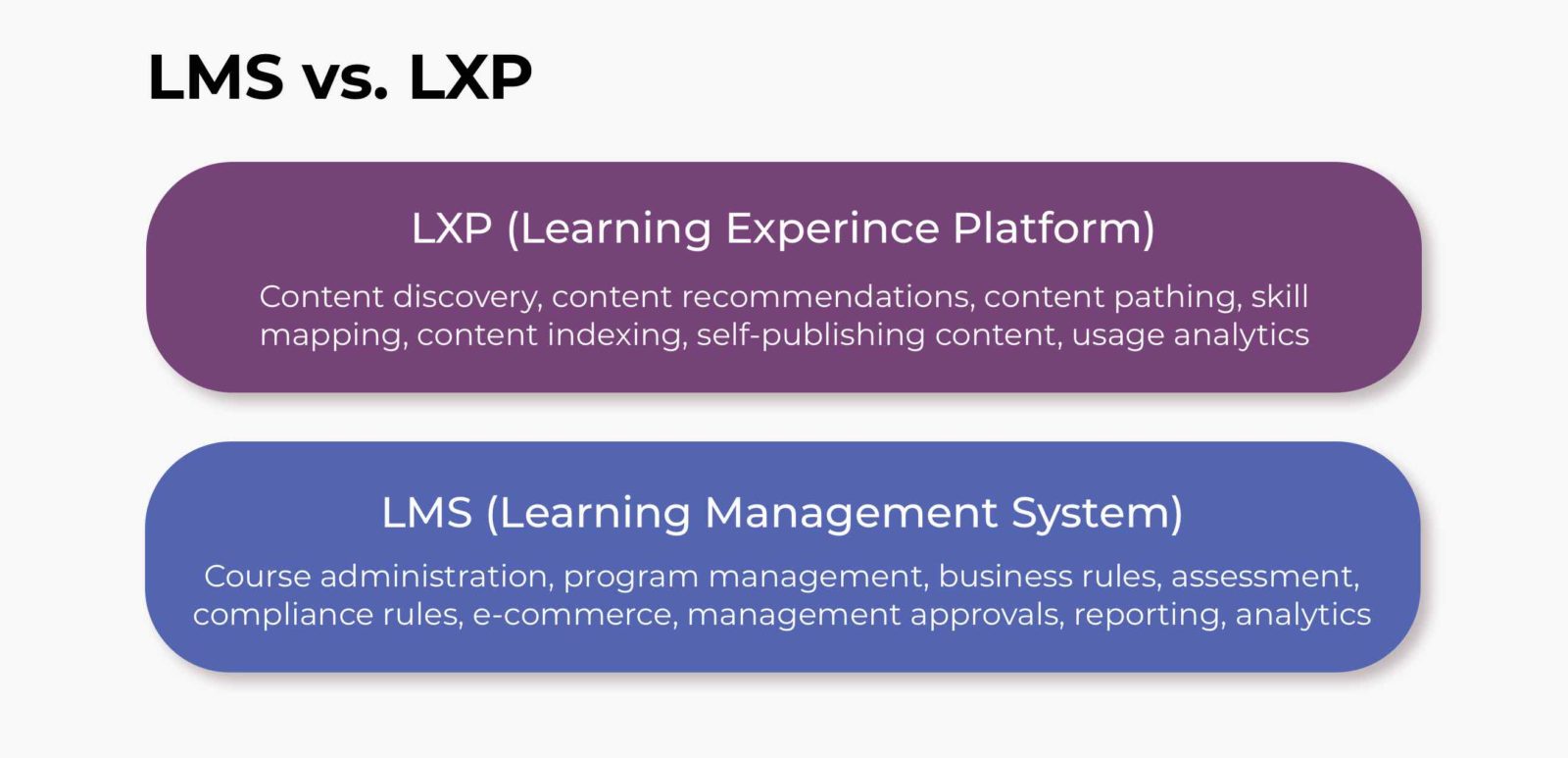 The future of LXP
Note that LXP is not a simple substitute for LMS. It integrates the content on LMS and presented as part of LXP. LMS provides a compliant learning management platform for enterprises and managers. On this basis, LXP takes employee learning experience into consideration. Such integration allows companies to manage their learning process while giving employees full learning autonomy.
LMS and LXP are designed to merge learning into workplace.
In the future, LXP will become a solution for how people learn in life.
Learn more about how to elaborate LXP on your existing LMS.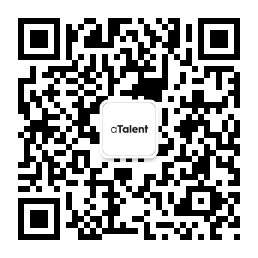 Scan the QR code to learn more about talent management.