Learning system studies have shown that learners are dissatisfied with administrator-driven learning environments. They face learning platform(LXP) that are generic, offer no input, outdated interface, complicated learning paths, and do not fulfill their individual skill objectives requirements.
This presents a significant challenge for organizations that have invested in complex LMS platform. Could it be time to adopt a user-centric strategy ensuring an interactive learning experience around active technology communities?
What is LXP anyway?
The Learning Experience Platform (LXP) is a fairly new phenomenon, and a term recently coined by one of the leading market analyst, Josh Bersin. He defines it as a fast-growing trend that aims at indexing the world of learning, starting from a single point of entry and comprised of interconnected technology providing multiple functionalities for all your learner needs. Easy peasy.
Based on the framework of the conventional LMS, the LXP aims to curate and organize information, build learning/career pathways, improve expertise, and deliver customized curated material to the customer.
Still, according to Bersin, the LXP's increasing success is in fact attributed to its willingness to reach workers who have grown sick of the conventional complex enterprise learning platform.
Tailoring learning journeys
With a standard LMS, learners usually have little to no influence on the learning material that is assigned to them. Rather, their learning environment is decided nearly entirely by administrators, trainers, and managers, leaving learners with no control over the content they can follow.
With an LXP, learners are now able to choose a customized curriculum that focuses on their role, job title, strength, interest, and on a longer-term, ambitions. LXPs enable learners in choosing a material that they feel is most important to their particular journey.
Strategy wise, this naturally increases user retention, usage rate, time spent on the platform, positive reviews, and impact on your talents and their career.
Need vs Want – How LXPs recommend content
With LMSs, enterprises are used to deploy an Impact VS Enforcement approach, where Learning Management Systems are monitoring course completion, and do a relatively great job at enforcing assignments and compliance procedures.
With LXPs, Courses are classified as Skills-based, Usage-Based, AI Content-based and compliance-based. With each of them having a specific role in the learning process The priority is now the learner's progress, encouraging them to plan their learning experience around job ambitions and skillset. In that sense, the XP learning supports both the individual and the organization.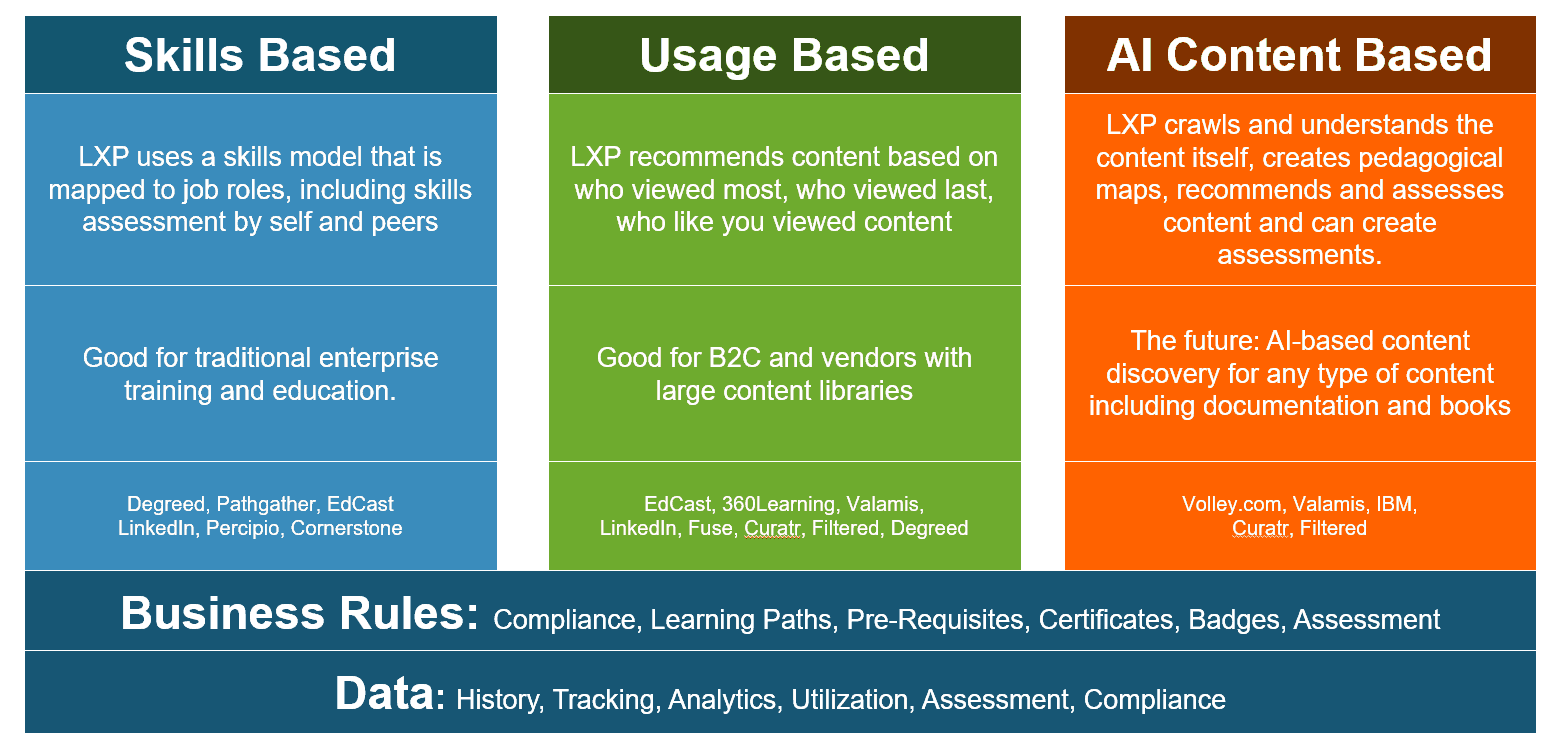 source: https://joshbersin.com/2019/03/learning-experience-platform-lxp-market-grows-up-now-too-big-to-ignore/
Genuinely user-focused, it is so that organizations will continue to resolve the deficiencies in their workforce's skillset and by improving each employee's expertise and knowledge.
Let's cover some of the problems and solutions that enterprises encounter when deploying a learning and management solution for their employees in Asia and within the China region, including Mainland and Greater China.
Scalable LXP Solution, to Asia, China and beyond
Most enterprises have difficulties implementing their existing learning technology in China. Speed issue, connectivity, accessibility, user experience, support, scalable system, or content library, you name it.
aTalent LXP solution brings global cloud Learning know-how and features to netizens in Asia and China. The multiple system integration capacities, the UX, UI and one-click integration with WeChat allow employees to access, browse and learn from their favorite at a fast speed from their favorite social channel.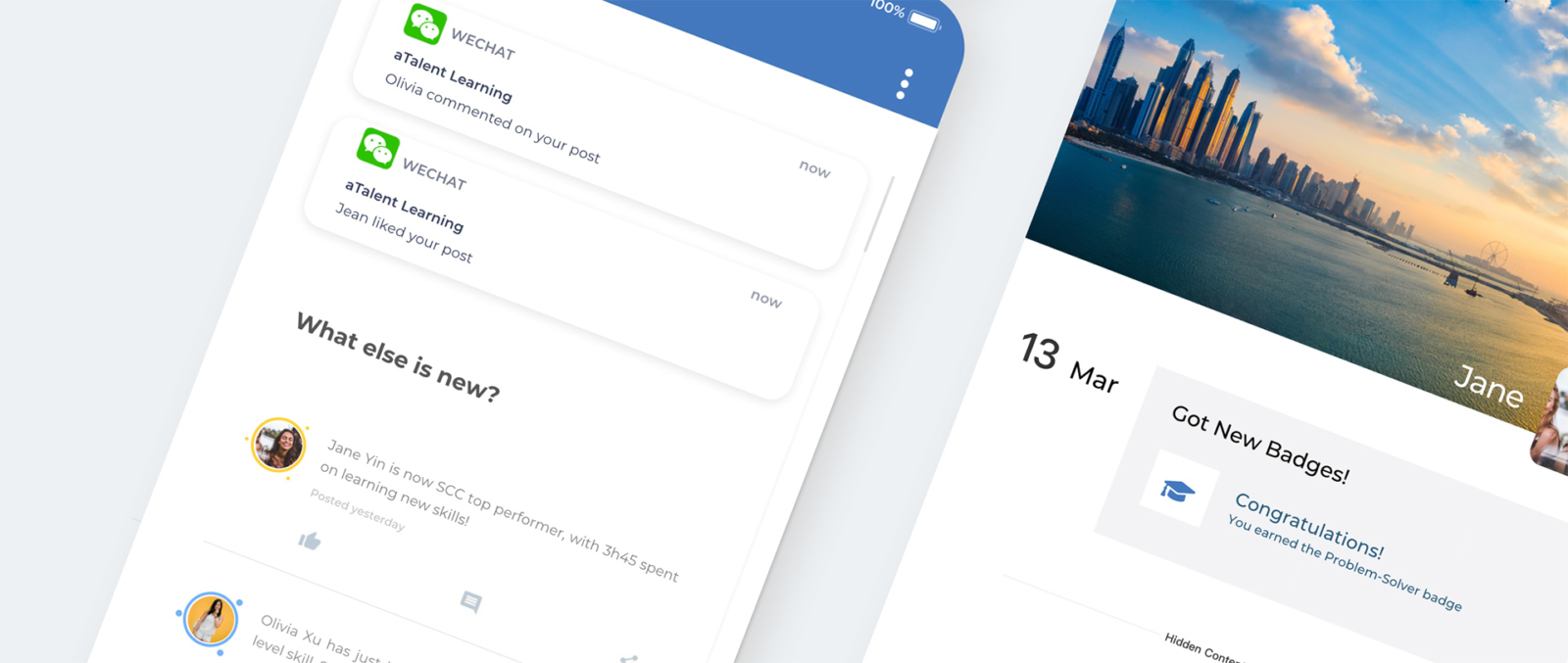 Gamified content & Social Sharing
aTalent Learning Experience solution is the first WeChat-Friendly LXP solution that seamlessly integrates with global LMS. It allows learners to login with WeChat, and enjoy the full learning experience, on WeChat.
Sharing progress and achievements is made simple, fast and easy, thanks to the direct integration with WeChat's API. Notifications, reminders, onboarding tips, and announcements can be scheduled, automatically, and pushed to the users.
A cross-profile viewing can be activated to start generating friendly competition and interactions between users.
Want to know more?
Want to hear more about our Learning Experience solution?