BY JOSHBERSIN · PUBLISHED DECEMBER 13
With the labor market fully disrupted, companies are heavily pushing toward internal development. And one key to this strategy is the adoption of what we now call the Talent Marketplace.
As I've written about in the past, a Talent Marketplace is a unique and special HR platform that lets employees find internal positions, projects, and mentors without having to go through their boss. In other words, it's a democratized way to manage a company: creating an open, employee-centered place where people can fulfill their aspirations.
I've interviewed more than 50 companies using these systems and it's clear to me that this is one of the most successful innovations in HR. Every company that adopts this kind of solution sees almost immediate positive results, and over time this platform becomes one of the most popular systems in the company. As Jean Pelletier of Schneider Electric puts it, the talent marketplace is "the people's system."
Given the enormous market growth, every vendor has now jumped in. The pioneers of this market are Gloat and Fuel50, who each have more than a million users on their platforms and often compete as top-tier vendors for most RFPs. But right behind them are offerings from Workday (which is connected to the Workday Career Hub and has more than 90 customers), Eightfold (connected to its Talent Intelligence platform), Hitch, iCims, Oracle, PeopleFluent, and a new Opportunity Marketplace from SAP. And since this idea is so big, vendors like Degreed, Cornerstone, Phenom, and many others are jumping in.
In my mind, the Talent Marketplace is both a software market and also a "set of features." In other words, you could build your own talent marketplace and it will probably work pretty well. Or you can buy a specialized platform like Gloat or Fuel50 and you'll get an AI matching engine, skills taxonomy, and analytics out of the box.
How Talent Marketplaces Grow
While this often starts as a career planning or job matching system, early on companies realize it's a mentoring tool, a way to connect to development programs, a way to promote job-sharing and gig work, and a way for hiring managers to find great staff. In reality, this type of solution becomes "the system for internal mobility and development," so companies like Allstate, NetApp, and Schneider see it as an entire system for employee growth.
Other companies, like Unilever, see it as a way to promote flexible work. These companies use the Talent Marketplace to encourage agile, gig-work and help people find projects or developmental assignments. Internal gig work and cross-functional projects are a massive trend (movement toward Agile), within a given function (IT, HR, Customer Service, Finance) it's incredibly powerful. And since the marketplace democratizes opportunities, companies like Seagate see this as a diversity platform as well.
Consider HR, for example, where I spend most of my time. Every HR department has projects to build new career models, pay models, study employee engagement, or design a hybrid work strategy. These are not "jobs" they're "projects." Why not recruit people to work on these teams through the marketplace? Managers don't always know who is interested or qualified to help, so let the system help you decide.
As these systems grow, companies find a myriad of other issues to address. How do you incent managers to let their people move to other roles? How will you pay people when they do gig work? What if someone moves into a higher paid role yet they are currently at a lower level? How will performance management work if people have multiple managers? Who will be the "career manager" vs. the "project manager" for each individual?
Ideas like building Circles and Guilds (the Spotify Agile Model) are going to come into your mind. Maybe we let people move around from project to project but they have a "career advisor" in their functional area to help them progress. Are you ready to decompose "management of projects" from "management of people?" This is where the world is going.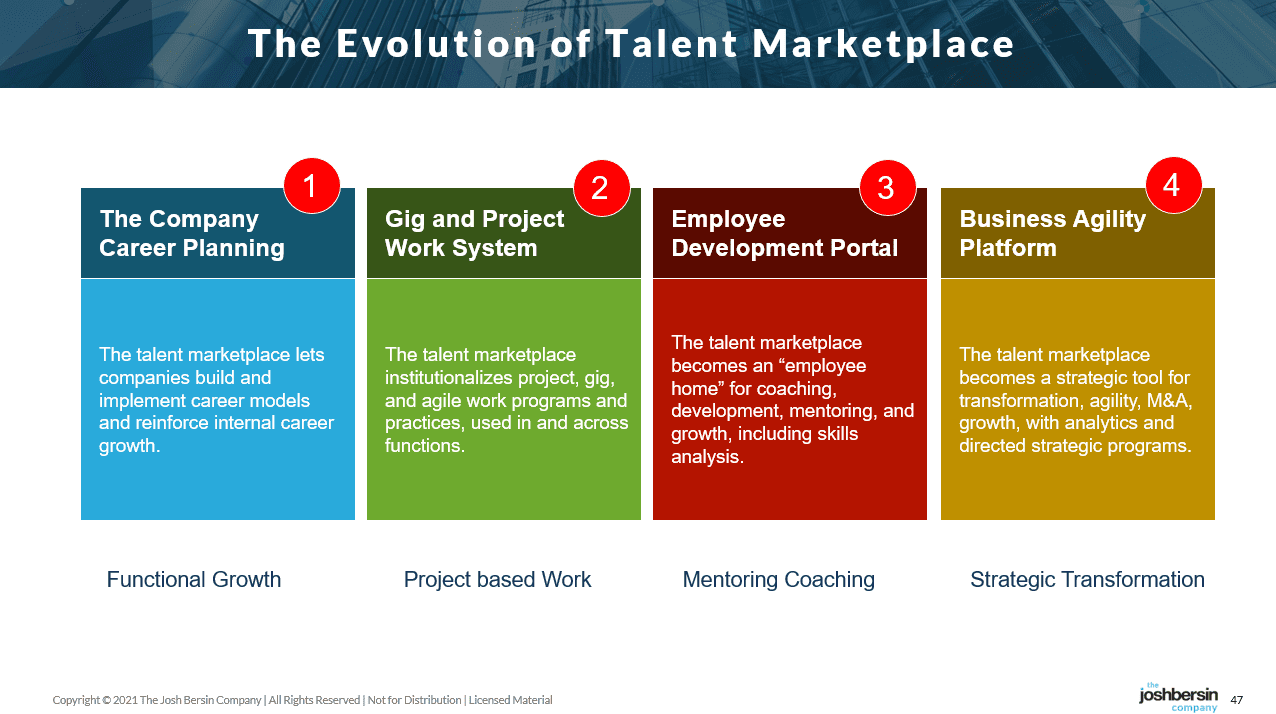 The Vendor Landscape Is Still Expanding
While vendors like Gloat and Fuel 50 are clearly in the lead, many others have jumped in. In fact, almost every HCM vendor, ATS vendor, and LXP vendor is adding these features. But rather than try to compare them all, let me talk about what the leaders are doing.
Gloat, which now has more than 30 global enterprises in production, just introduced an Organization Agility offering to its platform. The company is opening up its skills taxonomy so you can use the Gloat engine for your global skills database. While this feature set is new, Gloat's vision is to replace the Workday Skills Cloud or Eightfold Talent Intelligence Engine as your source of organizational skills.
To support this the company features Skills Insights, Organizational Agility Analysis, and tools to match external candidates to internal candidates for better sourcing. The company is also moving into the learning space, by introducing Job Swaps, Job Shadowing, Peer Group Learning, Volunteering, and Coaching (through partners). Gloat has also released features for deskless workers, an important group often left out of career mobility solutions.
Fuel 50, not to be outdone, has more than doubled its customer base with more than 80 enterprise customers and continues to grow its career architecture tools. Fuel50's Talent Ontology is used by companies like J&J and the company is just introducing a coaching network (more to come), and more learning content. While both these vendors partner with third-party LXP vendors, Fuel50's customers often use the platform for learning experiences directly with Learning Gigs, Coach and Mentor Marketplace, and embedded learning content.
Other vendors of note are SuccessFactors (Opportunity Marketplace), Workday (integrated with Career Hub), Hitch, Eightfold, iCims, Avature, Phenom, and Peoplefluent. Cornerstone XPLOR, the company's new agile learning platform, is planning to release a talent marketplace in the Spring of next year. If I add up all the deals I've seen so far, I'd say this is more than a $300 Million licensed software market today, likely to triple in the year ahead.
In our next article, we will bring you "The Battle for Talent Marketplace: Advantages and Future Prospects of the Leaders". Stay tuned for the latest talent management news!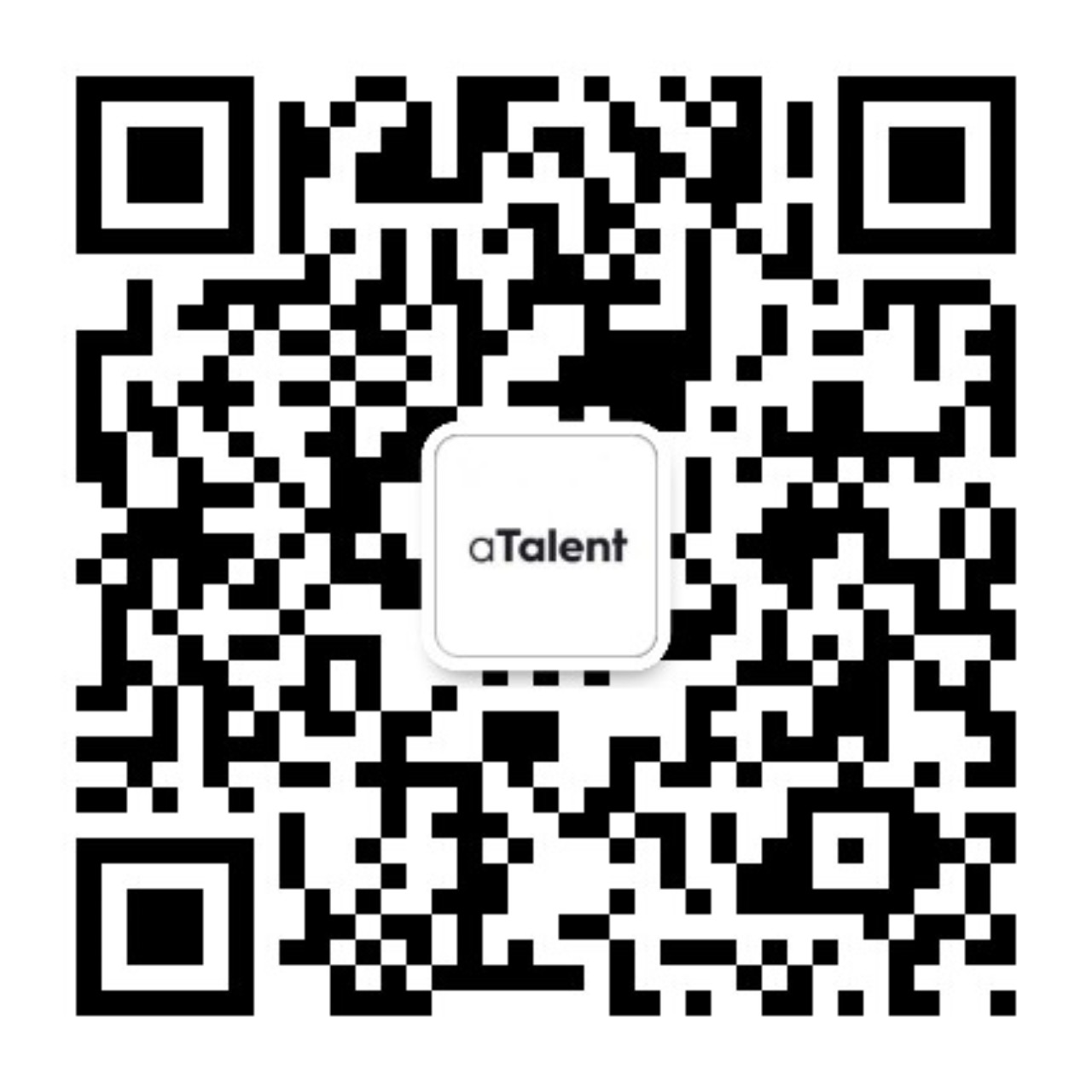 Scan QR code to follow WeChat public account
Never miss any talent management information